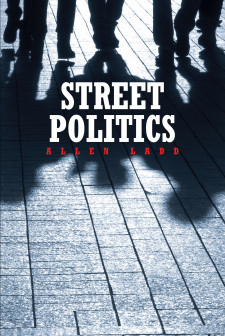 DEFOREST, Wisc., September 21, 2022 (Newswire.com) - Fulton Books author Allen Ladd, a man who was able to witness the ugly truths of life, has completed his most recent book "Street Politics": a riveting narrative that speaks to the young adult and adult audiences. It follows the life of a man who grew up in one of the most war zones in the world. To survive in the streets, he resorted to violence, crime, and substance abuse. He is someone who spent most of his life in and out of prison. Despite the dirty and dark deeds, he will do anything to survive. He must survive for his lover and his precious eight-year-old daughter.
Ladd shares, "With so much at stake, turning back to what I'd known for 20 to 25 years was probably a given, especially after never fully getting a chance to actually see what my true potential was. Then after giving this state 12 long years of my life, leaving empty-handed wasn't an opinion.
"So I'd be choosing the people I surrounded myself with very wisely because, at the end of the day, those decisions made the difference in dreams becoming reality. Because being raised in Chicago meant living the nightmare people read about or see on television, which was why my team identified with one another struggle because we all came from the nightmare.
"How quickly I could get Red (the most valuable piece to the puzzle) to fully believe in our mission held a lot of weight. He was one of the deadliest people walking planet Earth. The streets whispered about his dirty deeds and body count. He would ultimately be my personal hand of death. But also important, he knew none of the people I'd be surrounding him with. Therefore, he'd have an unbiased opinion when it was time to weed out the snakes and rats.
"I also knew from experience that in any climb to the top with other individuals, it was highly unlikely everyone makes it to the top of the mountain. You just hope those that fall cut their ropes and don't take everyone with them.
"Who would have ever known that such big-city tactics could be so devastating to Wisconsin and so many other places as a whole? But bringing so many likewise minds together, who'd stop at nothing to build the future we have foreseen, can definitely have a very dangerous result."
Published by Fulton Books, Allen Ladd's book is a thrilling piece that tackles complicated social issues. It's a dark and mature read that depicts the reality of people living in the marginalized sector.
It also contains languages and themes that are not suitable for minors.
Readers who wish to experience this page-turning work can purchase "Street Politics" at bookstores everywhere, or online at the Apple iTunes store, Amazon, Google Play or Barnes and Noble.
Please direct all media inquiries to Author Support via email at support@fultonbooks.com or via telephone at 877-210-0816.
Source: Fulton Books
Share: