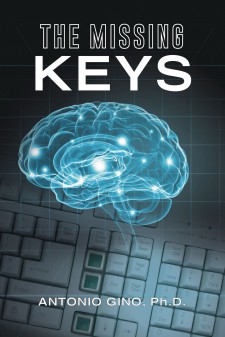 Honolulu, HI, November 10, 2017 (Newswire.com) - Antonio Gino, Ph.D, a native of the small town Aspra, across the bay from the city of Palermo, in the island of Sicily, has completed his most recent book "The Missing Keys":  a gripping and informative attempt to help trauma victims resolve issues regarding their inability to forget, their constant attempts to avoid thoughts and reminders of trauma, and to address collateral problems arising from symptoms of PTSD such as anger, sexual, and addiction issues.
When asked of his inspiration, Dr. Gino says, "My experience working with war veterans at the Honolulu VA Hospital, my experience working with trauma victims in private practice, my knowledge of computers, and the desire to help trauma victims were the impetus for this book."
Published by Fulton Books, Antonio Gino, Ph.D's book introduces recent statistics indicate up to 70 percent of Americans are exposed to some form of trauma during their lifetime. Most victims of trauma experience at least some symptoms of posttraumatic stress (PTS): intrusive thoughts, flashbacks, anxiety, vigilance, disturbing dreams, avoidance of reminders, survival guilt, anger issues, self-medication (usually with alcohol or other substances), sexual issues, etc. About 20 percent of trauma victims develop posttraumatic stress disorder (PTSD), i.e., experience many of the above symptoms for a prolonged period of time.
Individuals with PTSD symptoms are often given advice from friends and family members. Typical examples are: try not to think about it; give it some time, and it will go away, get involved in your hobbies so you will not think about it, a couple of beers will help you relax and get some sleep. These kinds of advice often make the trauma victims feel worse because they cannot possibly forget the trauma, and they often think there is something wrong with them otherwise they would be able to forget about it.
Dr. Gino has more than twenty-five years of experience working with trauma victims. He assessed and helped war veterans at the Honolulu VA Hospital for almost fifteen years. He has helped trauma victims in private practice for the past ten years, has helped addicts for the past thirty-two years, and he is a software developer. The Missing Keys integrates his fields of expertise and includes verbatim therapy sessions to help the reader feel involved in the actual therapy.
Readers who wish to experience this inspired work can purchase "The Missing Keys" at bookstores everywhere, or online at the Apple iTunes store, Amazon, Google Play or Barnes and Noble.
Please direct all media inquiries to Gregory Reeves via email at gregory@fultonbooks.com or via telephone at 877-210-0816.
Source: Fulton Books