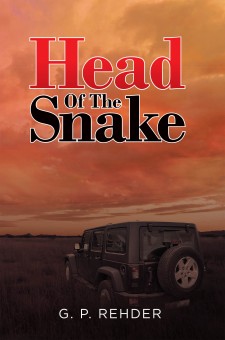 NEW YORK, July 2, 2020 (Newswire.com) - G. P. Rehder, a retired law enforcement officer and a company manage; has completed his most recent book "Head of the Snake": a gripping and potent narrative that follows Orr as he visits an old friend in New Mexico and encounters an unexpected revelation that drove him to set out on a mission.
G. P. writes, "Head of the Snake is the sequel to Death Is Not the Final Chapter. It is book 2 in the Jason Orr saga.
"When Orr travels to Questa, New Mexico, to visit an old Army buddy's ranch, what awaits him there shakes him to his core. In his passion to seek justice and answers for his friend, Orr sets out on a quest that will entangle him with some of the most ruthless cartels in the United States. Their illicit world of fentanyl trafficking and Orr's drive to avenge a death puts them on a collision course. It ends in an isolated body strewn canyon in Taos County. When the bullets stop flying, Orr and his two new companions find themselves with a strange dilemma. The decision they make will either help them accomplish a dream of establishing a veteran's horse ranch or land them in jail.
"But Jason Orr can't leave it there. He makes a risky call from a dead vatos cell phone to the head of the CJNG cartel. The call starts a conflict that his antagonist Joseph Lehan, the CEO of Sarnev International, would never see coming.
"Thousands of miles away, during Orr's time in Questa, Joseph Lehan gives a command to the head of his Moscow division while he is attending a meeting at Lehan's Bermuda Estate. There are three men who escaped back to Moscow Lehan wants eliminated. Lehan's division head is ordered to avenge the death of Lehan's best friend and benefactor, Andre Sarnev.
"Unfortunately for Lehan, this order pushes him over a line that no one should ever cross. In that region of the world, you don't disrespect the Solntsevskaya Brotherhood. A mistake that would cost him dearly.
"Between what Orr has set in motion and Lehan's own vendetta, one of the world's richest companies, Sarnev International, could soon be no more, but that is another story."
Published by Fulton Books, G. P. Rehder's book is an incredible continuation of Orr's battles and missions as he meets more mysteries and problems waiting to be solved.
This book will definitely bring a thrilling experience to readers, young and old.
Readers who wish to experience this excellent work can purchase "Head of the Snake" at bookstores everywhere, or online at the Apple iTunes Store, Amazon, Google Play or Barnes &  Noble.
Please direct all media inquiries to Gregory Reeves via email at gregory@fultonbooks.com or via telephone at 877-210-0816.
Source: Fulton Books
Share: