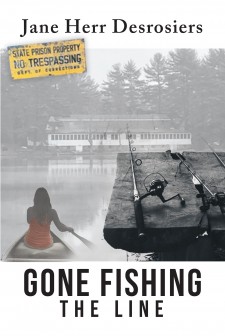 BALTIC, Conn., October 1, 2018 (Newswire.com) - Jane Herr Desrosiers, a truly gifted author and talented writer, has completed her most recent book "Gone Fishing: The Line":  a powerful and delectable tale of a young mother searching for answers to questions regarding her own mother, and a journey of discovery that yields answers and new meaning to life.
Jane Herr Desrosiers is thrilled to bring to her readers the second in the Gone Fishing trilogy, Gone Fishing: The Line. The response that she has received from readers, local book clubs, and followers from the Connecticut Author Trail has been overwhelming. Jane's sense of humor and ability to turn the plot make this book series truly comfort food for your brain. The author says, "Spanning my early days growing up in Canterbury, Connecticut, to my residence now in Baltic, Connecticut, life has provided me with down-home New England characters."
Published by Fulton Books, Jane Herr Desrosiers's book begins in the fall of 1980 when Ethel O'Connor follows the letters and pictures in her Momma's box, the only possession she thinks she inherited from the mother she lost at birth, to the quiet town of Oxford, Maine, where her mother, Stephanie, was born. Ethel and Charlie's young son isn't walking, and Ethel wonders if there is some congenital disease she should know about on her mother's side. But the mystery of her mother is not answered by letters or pictures and certainly not from the visit to Oxford. Instead, more questions surface about Stephanie's past. Who is Joseph, the boy in the picture with Momma? What does he mean when he refers to, "I'll never forget what you did for me," in the letters? Was the untimely drowning of her mother's best friend an accident? Or was it murder? Poking around Oxford, Ethel discovers her mother left her more than one box of possessions. She left her a house in which Ethel finds a journal. The passages in the journal give Ethel a glimpse into her mother's life as a young woman growing up. It does not appear congenital disease affected her or anyone in her family. This is the knowledge that Ethel has thirsted for. Or is it? Her mother's journal reveals her own uneasy secrets, which once uncovered can't be ignored.
The colorful characters of Piney Bluffs, Caleb, Sadie, Miss Ruthie, Big Beulah, and the rest, remind Ethel of the goodness of small town Maine that surrounds her as she follows the line of truth and justice. In Gone Fishing: The Line, part two of the Gone Fishing trilogy, Ethel goes beyond appearances and prejudices to end the silence of the past.
Readers who wish to experience this enveloping work can purchase "Gone Fishing: The Line" at bookstores everywhere, on Jane's website, www.janeherrdesrosiers.com, or online at the Apple iTunes store, Amazon, Google Play or Barnes and Noble.
Please direct all media inquiries to Gregory Reeves via email at gregory@fultonbooks.com or via telephone at 877-210-0816.
Source: Fulton Books
Share: