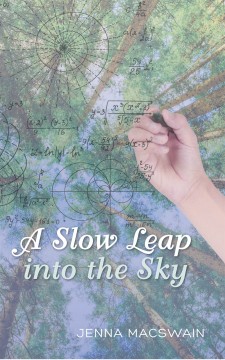 NEW YORK, April 14, 2020 (Newswire.com) - Jenna MacSwain, who started as a scientist and engineer before turning to write fiction, has completed her most recent book. But make no mistake, A Slow Leap into the Sky is no academic treatise; you could loath math and physics and still get swept wonderfully away by the decades-long love story that MacSwain lays out with both the precision of an engineer and the heart of a poet. The writing is fast, fun, crisp and insightful. One can learn a thing or two about love and commitment, much as the heroine does, by watching Dr. Harris blossom from the insecure 20-year-old genius she starts out as to the scientific powerhouse she becomes. The thread through it all is her life-long love affair with an older man, Dr. Frederick Lund, one of the early academics to turn his ideas into dotcom billions.  MacSwain presents the waxing and waning and waxing again of this smart, exciting couple in a way that makes you eager to know what happens next as you're pondering the nature of learning to love. 
Alexandra Harris isn't your run-of-the-mill physics professor.  While most of her contemporaries (you could hardly call them peers) were giggling through middle school, the gifted female prodigy was well on her way to earning her doctorate in theoretical physics. Now, at the tender age of 20, she's a full professor at a prestigious Los Angeles Institute teaching much older students the ins and outs of Hilbert Spaces, the Banach-Tarski paradox, and what it takes to navigate the higher realms of science as not only a child but a female child at that. It's a treacherous path brought richly to life in A Slow Leap into the Sky, Jenna MacSwain's engrossing new novel about sex, love, and billion-dollar ideas in the beginning days of Silicon Valley.
Readers who wish to experience this fast-moving work can purchase "A Slow Leap Into the Sky" at bookstores everywhere, or online at the Apple iTunes Store, Amazon, Google Play or Barnes and Noble.
Please direct all media inquiries to Gregory Reeves via email at gregory@fultonbooks.com or via telephone at 877-210-0816.
Source: Fulton Books
Share: