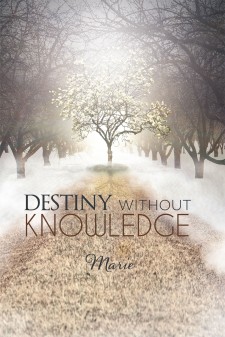 NEW YORK, April 20, 2020 (Newswire.com) - ​Marie, a brilliant writer who is now retired and lives a quiet life, has completed her most recent book "Destiny Without Knowledge": a gripping and potent journal of one's joys and sorrows throughout her beautiful and unexpected paths in life.
Marie writes, "There are so many things that affect one's destiny. What we choose to do during our young life, as well as the things that we have no control over, cause us to make decisions and take paths sometimes without fully realizing why. Being raised in a very strict and religious Southern family, my parents gave me the confidence and strength that I needed to face life, even during the difficult times when I was confused and questioning myself because of occurrences I couldn't explain. Over the years, I became very good at looking the part of a very secure and self-assured woman, and in some facets of my life, I was. The problems I faced were very personal and only caused doubts about my love and insecurities with my partner. Many of the paths I took were determined by the absence of knowledge to answer the questions I kept asking myself. Over the years, beginning and during my first marriage, I would be given insight into an event that always left me feeling helpless because I couldn't understand or grasp the meaning of what I was being shown. There were many dark and lonely times in my life, but there were always many beautiful, love-filled times as well. It was always the same though, so many whys with no answers. It's amazing how the knowledge so needed to explain the reasons for the course of our lives is within the folds of our memories, but I truly believe that sometimes it's best not to retain them for it could possibly destroy us. I'm just thankful to have been shown enough to realize the answers to the questions regarding my destiny and to finally understand the whys of my life. Knowing the complete source of my problems earlier may have caused me to give up and to have missed some of the wonderful paths I enjoyed and that would have been so sad. I believe God knows what's best for us, and I'm happy and at peace. Do I have regrets? Of course, but my wonderful memories and experiences make my life rich and rewarding. My life may have been guided and controlled by the unknown, but I'm so blessed and finally at peace."
Published by Fulton Books, Marie's book holds a fascinating reveal of one woman's life fragments, where readers will witness how each event pieces together her imperfect life that makes her memories beautiful, her experiences rewarding, and her present fruitful.
Readers who wish to experience this inspiring work can purchase "Destiny Without Knowledge" at bookstores everywhere, or online at the Apple iTunes Store, Amazon, Google Play or Barnes & Noble.
Please direct all media inquiries to Gregory Reeves via email at gregory@fultonbooks.com or via telephone at 877-210-0816.
Source: Fulton Books
Share: