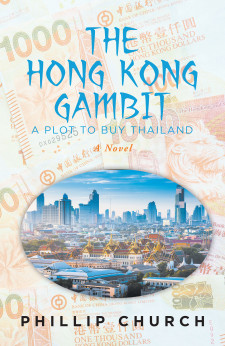 FALLS CHURCH, Va., September 14, 2022 (Newswire.com) - Fulton Books author, Phillip Church, a former US foreign service officer, has completed his most recent novel, The Hong Kong Gambit, a fictional account of events precipitated by the 1997 transfer of Hong Kong from British to mainland Chinese administration. Among those events were efforts of Hong Kong-based crime syndicates to find a new base for their sex trafficking operations. The most promising candidate for such a base: open and welcoming Thailand.
The story traces the journey to Thailand of three Americans on vacation. What was supposed to be a relaxing Asian golfing and fishing trip for Paul, Dan, and Ben becomes an entanglement in struggles between criminal contenders for control of the region's lucrative human trafficking industry.
As the author shares,
"This is the story of three Americans who find themselves caught up in, and forced to thwart, an Asian crime syndicate scheme to take control of Thailand's economy.
The Hong Kong Gambit takes its readers from the bucolic setting of a small Thai fishing cooperative to the cut-throat world of global financial conglomerates where at stake are the economic stability and progress of countries like Thailand. Laid bare is the darker side of globalization that too often has benefited the powerful at the expense of the poor."
Published by Fulton Books, Phillip Church's book is a fictional international crime thriller that will enlighten its readers about how proactive awareness of where their money is invested can help combat the global scourge of young women entrapped in modern-day slavery.
Readers who wish to experience this page-turning narrative can purchase The Hong Kong Gambit at select bookstores and online at Amazon, Barnes and Noble, Google Play, or Apple iTunes store.
Please direct all media inquiries to Author Support via email at support@fultonbooks.com or via telephone at 877-210-0816
Source: Fulton Books
Share: